Trust your heart to experts at The Medical Center of Aurora
Nearly 50 percent of Americans are at risk for heart disease. That's why it's important to choose experts for the care of your heart.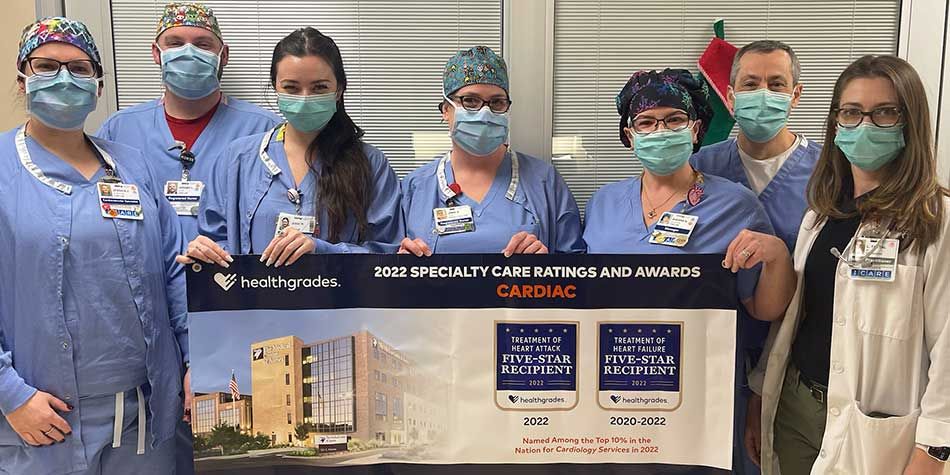 Did you know that your heart will beat around 115,000 times today? Those heartbeats help 2,000 gallons of blood (per day) flow throughout your body, providing vital nutrients to fuel your every move. Only about the size of your fist and weighing less than a pound, your heart is essential to your good health.
Unfortunately, nearly 50 percent of Americans are at risk for heart disease. That's why it's important to choose experts for the care of your heart and the hearts of those you love. The Medical Center of Aurora (TMCA) has built a comprehensive, nationally recognized cardiovascular program combining preventative care and advanced treatment options.
One of the nation's best, right in your neighborhood
As a leader in heart care, TMCA was recently recognized by IBM Watson Health as one of the nation's 50 Top Cardiovascular Hospitals in 2022. This award considers a broad range of indicators from publicly available data to evaluate performance, including inpatient and 30-day mortality, patient complications, 30-day readmission, and average lengths of stay. This year, a patient experience measure was also added to the criteria. (Hospitals do not apply for awards, and winners do not pay to market this honor.) You can learn more about this recognition by reading the Fortune article.
Why does this matter? According to Fortune, "By IBM Watson Health's calculation, if all U.S. cardiovascular hospitals performed at such a level, we'd be much better off—with 6,400 fewer lives lost, 5,000 fewer bypass and angioplasty patients who suffer complications, and $1.4 billion saved each year."
TMCA is proud to provide cardiac care with a level of safety and quality that is among the highest performing organizations in the U.S. No matter the state of your heart, the specialists at TMCA always are working for you.
Specialized programming, individualized care
There are a wide range of heart-related issues that may affect you. The specialists from the Cardiac & Vascular Center team work together with Aurora Denver Cardiology Associates and other specialists to understand each patient's individual needs and to create a unique care plan. Treatment may include care from several specialized sub-programs including cardiac surgery, diagnostic and interventional cardiology, the Center for Lung and Heart Health, the Rocky Mountain Heart Rhythm Institute, the vascular surgery and endovascular therapy program and/or the cardiac health and rehabilitation program.
Comfort and convenience
Cardiac care at TMCA is designed to be convenient. The focal point is a dedicated 84-bed Heart Care Tower where patients are treated to beautiful, all private rooms during their stay. Adjacent to the tower are the state-of-the-art hybrid cath lab and hybrid OR, which incorporate advanced technologies allowing physicians to plan and perform more types of cardiovascular procedures in this unique, flexible environment.
Trusted care. Close to home.
Receiving care at one of the nation's best cardiovascular hospitals begins with finding a cardiologist. To schedule an appointment with a cardiologist, contact Aurora Denver Cardiology Associates at (303) 750-0822 or visit ADCAcardiology.com.