Dedicated rehabilitation hospital leads to long-term success
Spalding Rehabilitation Hospital the region's premier facility for inpatient and outpatient rehab care.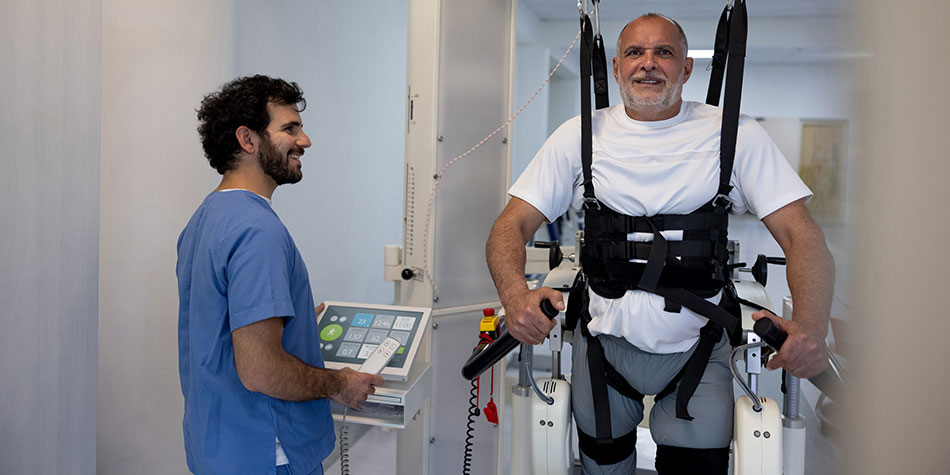 Patients with significant medical conditions receive support in body and mind for effective transition home
Care for a stroke, orthopedic condition, traumatic brain injury or other significant health need often doesn't end after treatment. Many patients find the transition from hospital to home requires additional support. Those who seek this care from a dedicated rehabilitation facility find the best opportunity for long-term success. Spalding Rehabilitation Hospital is Colorado's first licensed acute rehabilitation hospital and the region's premier facility for inpatient and outpatient rehabilitation care.
Here, patients receive customized, comprehensive care as they recover from many medical circumstances, including neurological, orthopedic, swallowing, balance or cognitive conditions, cancer, amputations, strokes or traumatic brain injuries.
Each patient's rehabilitation begins with a customized care plan that is created by an integrated team of experts as well as the patient, family and caregivers. Tailored specifically to the patient's unique needs, the plan may include either inpatient or outpatient rehabilitation, or a combination of both.
Inpatient rehabilitation patients receive daily monitoring and therapy supervision by board-certified physicians. Patients who have transitioned home but need extra support benefit from the outpatient "Bridge Rehab Program." Through this program, patients receive specialized nurse screenings and integrated, collaborative therapy plans that can include physical, occupational and/or speech therapies.
Whether undergoing inpatient or outpatient treatment, all patients benefit from a high ratio of licensed clinical staff to patients that includes board-certified physicians, nurses and therapists who specialize in physical, occupational, speech, language and cognitive rehabilitation. These experts have dedicated their careers to medical rehabilitation and have helped design the hospital's unique facilities to encourage successful transitions.
These include:
Therapy gym: Here, individuals participate in activities that challenge balance and also practice daily living activities such as dressing, bathing, laundry, medication management and online bill paying
Life gym: This innovative space features a grocery store, restaurant, car and golf range, each designed to simulate real-life experiences.
Rehabilitation apartment: A fully functional on-site apartment that allows patients to participate in home and self-care exercises, and to help family members get a preview of life at home before discharge.
Outdoor challenge course: On this course, patients practice walking on different terrains and inclines, completing simple tasks and games while enjoying some fresh air.
Spalding Rehabilitation Hospital care is available at a dedicated facility in Aurora, as well as at Presbyterian/St. Luke's Medical Center in Denver.
Published:
November 11, 2022