Aurora Denver Cardiology Associates celebrates 50 years
This is part three of our series about the most common conditions we treat: foot and ankle; joint replacement and shoulder.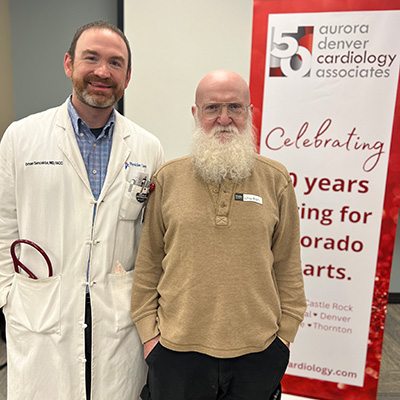 When William Urnick began experiencing pain in his neck and under his arm, he tried to ignore it. "It was just simple chest pains, and not in the places you would expect to have a heart attack," William explains. "It wasn't in the middle of my chest; it was under my left arm and right at my neck. But it wouldn't go away." As the pain persisted, William, a 69-year-old oil and gas retiree, decided to go to the local ER at The Medical Center of Aurora (TMCA) to find out what was causing his pain.
"When I got there, Dr. Sancaktar was the first one I talked to. He did an angiogram and found that all four arteries were 100% blocked," William recalls. "I was the walking dead guy." Because the blockage was too severe for a stent, Orhan Sancaktar, MD, a cardiologist with Aurora Denver Cardiology Associates (ADCA) at TMCA, referred William for lifesaving heart surgery at the hospital.
After the surgery, William spent nine days in the ICU, 15 days on a step-down unit and another 10 days at Spalding Rehabilitation Hospital. Today, William is healthy and grateful. He explains, "We all have the same goal, to live a healthy, long, happy life. It's been 27 months since surgery and I'm doing great." Living just a few miles from the hospital, William continues his care with Dr. Sancaktar, but proudly shares that, because his heart is doing so well, he only needs to visit twice a year. In the meantime, he is back to walking local malls and spending time with his family.
William's story is one example of the many lives changed by ADCA and the TMCA heart program. This year, ADCA is celebrating 50 years of bringing the highest quality, advanced heart care to the Aurora community.
Advanced heart care, close to home
In July 1973, ADCA founder Dennis Battock, MD was fresh out of the Army where he'd served as a cardiologist at Madigan General Hospital at Fort Lewis Washington. Returning to Colorado, after being on the faculty at the University, he started solo practice at Rose Hospital in Denver and subsequently began seeing heart patients in Aurora at what would become Aurora Denver Cardiology Associates. In December, 1974, Aurora Community Hospital (now The Medical Center of Aurora) opened its doors. At that time, patients like William were being transferred to a downtown Denver hospital for heart interventions such as surgery or catheterization. But Dr. Battock believed he could offer more to the Aurora community. He began adding partners to his practice, growing the service and reach of ADCA.
Within a few years, he and four other founding physicians (Drs. Barry Molk, John Haas, Robert Baum and Jerry Greenberg) began advocating for the growth of the heart program at Aurora Community Hospital through cardiac interventions. Because they believed so strongly in the community's need, they launched the Colorado Heart Institute—a cardiac catheterization lab based at The Medical Center of Aurora—in 1987. One year later, the heart surgery program was launched in Aurora. This changed the landscape of cardiac care in Aurora; patients who needed heart interventions could be treated right at their community hospital. "From 1987 on, we've been able to provide virtually every cardiac service that's available," Dr. Battock explains. "Over the years, it's evolved, but our vision to have Aurora offer tertiary care in cardiology has been accomplished. Our one lab has grown to four labs and what was once a small-time practice has become one of the largest cardiology practices in Colorado."
In addition to their work in bringing cardiac interventions to Aurora, ADCA doctors were also pioneering heart care. Drs. John Haas and Barry Molk performed the first successful coronary angioplasty in Colorado in 1981 Then, in 2001, Dr. Nelson Prager led the effort to create the Cardiac Alert™ program. This partnership between physicians, the hospital and EMS is now the national standard of care for treating patients who are experiencing a ST-segment elevation myocardial infarction (STEMI).
"It's like seeing your baby grow up," Dr. Battock explains. "We have always been at the forefront and kept up with the latest and greatest. And what we believed in then and is still true today is that it is a cooperative effort to keep on top."
Thanks to the vision and efforts of Dr. Battock and his founding partners, ADCA has cared for tens of thousands of patients, saving lives, and preserving heart health for patients just like William.
To learn more about ADCA or to find a physician
To learn more about heart care at The Medical Center of Aurora
Related Categories
HealthONE Cares