Dedicated cancer center now open in the heart of Denver
Presbyterian/St. Luke's Medical Center committed to advancing cancer care for the entire region.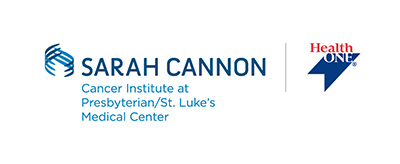 Denver, Colo. — Presbyterian/St. Luke's Medical Center (P/SL) announced today the opening of a dedicated cancer center in the heart of Denver. The new facility will be home to P/SL's dedicated oncology offerings through the Sarah Cannon Cancer Institute (the cancer institute of P/SL and HealthONE) and the nationally renowned Colorado Blood Cancer Institute (CBCI). The comprehensive, state-of-the-art cancer center was designed to combine all of the components Sarah Cannon, CBCI, and P/SL bring to the fight against cancer into one convenient location, right in the heart of Denver. Located on P/SL's campus, this center was created uniquely and lovingly for cancer patients, including:
comprehensive patient support services and resources
centralized patient navigation
increased capacity for blood cancer and bone marrow transplant patients
dedicated, accessible entrance and blood draw rooms
patient wellness services
We believe cancer patients deserve the very best possible environment to heal - one that combines the latest treatment options with internationally renowned care specialists. A place where comfort and safety meet kindness and compassion. They deserve a dedicated space that allows support to surround the whole family throughout the entire journey. Cancer patients deserve a cancer center that offers practical advice and complementary therapies to care for the person, not just the disease.
Our esteemed providers will benefit from enhanced collaborative spaces that will assist in developing advanced treatment plans for our patients from around the Rocky Mountain region. The dedicated new center, located at 1721 E. 19th Ave., Denver, is also home to CBCI. As the largest blood and marrow transplant program in Colorado and the Rocky Mountain region and the 15th largest program in the nation, CBCI is affiliated with the Sarah Cannon Transplant and Cellular Therapy Network, the largest network providing these therapies in the United States. The program, and its patients, benefit greatly from access to clinical trials through Sarah Cannon Research Institute.
Published:
February 23, 2023
Location:
Presbyterian/St. Luke's Medical Center
Related Newsroom Articles